De Baca County Resources
DE BACA COUNTY VITAL RECORDS OFFICE
P. O. Box 347, Fort Sumner, NM. 88119
Phone: (575) 355-2601
Fax: (575) 355-2441
MAP OF NEW MEXICO Counties and county seats.
NEW MEXICO DEATH INDEX,  1899 – 1940
DE BACA COUNTY 200th COST ARTILLERY NAME LIST - 200th/515th Coast Artillery Batan-Corregidor WWII Memorial Site.
BILLY THE KID OUTLAW GANG, still active after 123 years.
LOWER PECOS VALLEY HISTORY in New Mexico. Pecos Valley Railroad and Roswell notes.
AMERICAN LIFE HISTORIES manuscripts from the Federal Writers Project; 1936 - 1940. Some 200 plus typed oral histories of New Mexico.
LIVING WATER, by the Mid-Pecos Historical Foundation, Inc., H. R. Parsons, Jr. President/Editor. A history of De Baca County, New Mexico. Published about 1981. (This is a historical record of the Fort Sumner area in De Baca County, New Mexico on 304 pages, 8 & 1/2 X 11 inches. Harold Kilmer)
HIGH PLAINS HISTORY, a book, published in 1980 by the High Plains Historical Fd. Contains history and tombstone inscriptions of cemeteries in De Baca County east of the Fort Sumner, NM. Since publication of the High Plains History Book the High PLains Historical Fd. has completed all available tombstone inscriptions in De Baca County. These are on index cards and can be checked if you furnish a surname, first name or initial and the cemetery you want searched.
A MARK OF TIME, a history of new mexico, compiled and written by Mary Grooms Clark, 1983.
I BURIED BILLY, by Paco Anaya. Written in Spanish about 1930 by A. P. (Paco) Anaya, published in 1991 in English.
OLD MILITARY CEMETERY at Fort Sumner.
GERHARDT CEMETERY located in Gerhardt Valley.
CNJ OBIT INDEX. Clovis Newspaper Obit Index contains over 46,000names including many from counties surrounding Curry and may have lived in this area or had family who who lived in this area. Compiled by the Family History Center and the Curry County Genealogical Society in 1999 and 2000.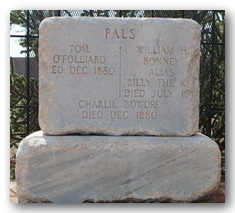 Tombstone of Billy the Kid
His tombstone was stolen in 1950. In 1976, Joe Bowlin found it in Granbury, Texas and it was returned to Fort Sumner. Then it was stolen again on February 8, 1981. It was found on February 12, 1981, in Huntington Beach, California. "Big John" McBride, sheriff of DeBaca County, flew out to Los Angeles and returned a couple days later with the gravestone.